Description
TEMPORARY ELECTRICAL SYSTEMS CERTIFICATION SOFTWARE
Go paperless with this 7909 Certification software for producing your custom temporary electrical system sign-off certificates including G1 Completion Certificate, G2 Schedule of Test Results and G3 Confirmation of Electrical Completion based on BS 7909 model forms.
7909 certification software for use with BS 7909, code of practice for temporary electrical systems for entertainment and related purposes.
For Electrical Certification Software based on BS 7671 see Electrical Certification Software.
– Revolutionise your temporary electrical system testing.
Customise the app the match your company branding
Customise the certificate colours and add your own logo
Set up your locations database
Add multiple events to a location
Import System (G1+G2) cert data from another device / user
Export System (G1+G2) cert data to other devices / users
Print, email, save PDF certificates
App Reviews
Don't take our word for it – here's what some BETA app testers say,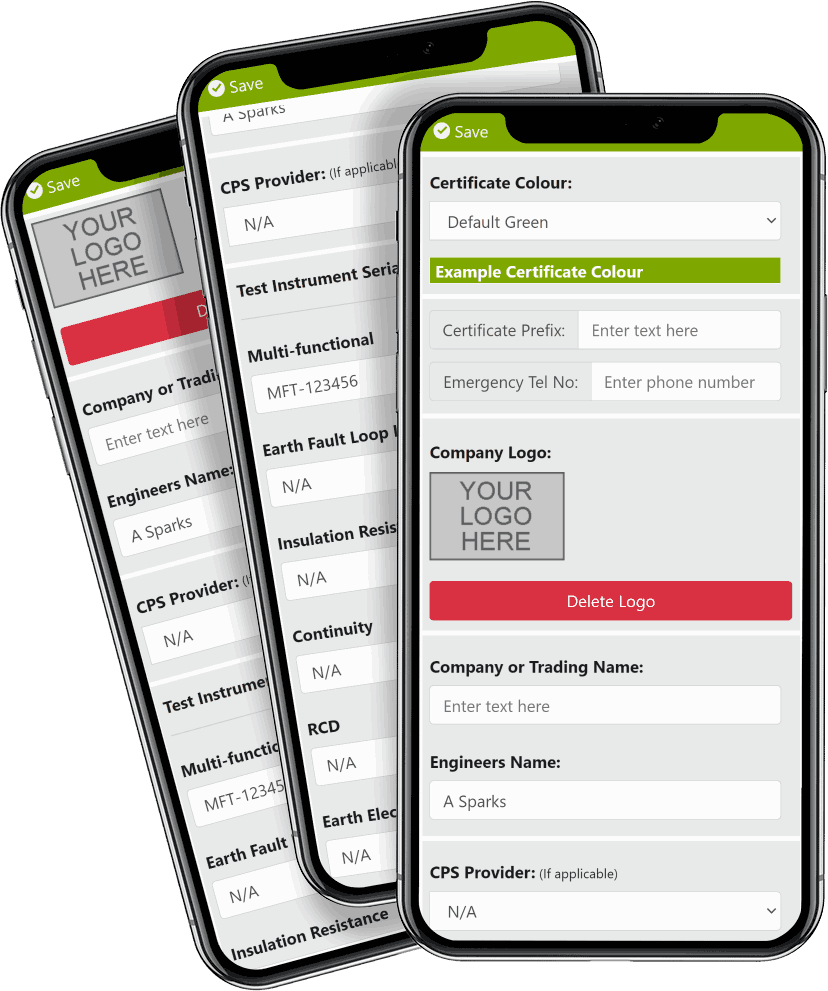 Customise Forms
CUSTOMISE THE APP AND CERTIFICATES
From the settings screen (accessible from the home screen) you can customise the PDF forms to match your company branding colours, certificate customisations are also applied to the actual app, from here you can also setup your company default data and add your logo etc.
Certificates
❯

Set the default certificate colour

❯

Set the default text input (pen) colour

❯

Add your company logo

❯

Setup default reusable data
App
❯

The certificate primary colour also sets the app primary colour

❯

Add your company logo to display it on the app home screen
Default Data
❯

Company name & telephone

❯

Engineer / Electricians name

❯

Test kit serials

❯

CPS provider (if applicable)
BS 7909 MODEL FORMS
FORMS G1 G2 G3 PDF
Generate PDF files for your temporary electrical system based on the BS 7909 model forms.
Print each individual form, a system certificate or generate a single PDF file for your whole event (G1+G2+G3).
Print & Email Options
Print a single G1, G2 or G3 form
Print a single System certificate (G1 + G2)
Print a full event certificate (G1 + G2 + G3)
Certificates Included
Completion Certificate (Form G1)
Schedule of Test Results (Form G2)
Confirmation of Electrical Completion (Form G3)
Certificate Colours
You can change the certificate colour and add your own logo in the settings screen.
Completion Certificate
FORM G1
The app is designed to save time and effort by reusing relevant data from one form to another, thus the order of form completion is G1 first, then G2 and finally G3
Form G1 Sections:
HEADER: Certificate reference & date.
PART 1: Description of activity covered and supply characteristics.
PART 2: System details of supply used.
PART 3: Essential inspection and tests.
PART 4: Declaration.
Schedule of Test Results
FORM G2
Once you have completed the Completion Certificate, next complete the Schedule of Test Results.
Form G2 Elements
ADD CIRCUIT Add additional circuits.
EDIT CIRCUIT Tap on the table row of the circuit you wish to edit.
COPY CIRCUIT Copy the last circuit to the next circuit.
VALIDATE Check for blank fields.
 PRINT Print or save as a PDF file.
The minimum permitted PSSC is auto-calculated and checked against your measured PSSC values.
Confirmation of Electrical Completion
FORM G3
If applicable for your event or temporary electrical system you can generate a G3 Confirmation of Electrical Completion Certificate.
All the systems for the event are automatically added to the G3 form along with all other relevant data, so all you need to do is sign it, everything else is done for you.
Form G3 Sections:
PART 1: Details of the event (auto completed).
PART 2: Schedule of sections (auto completed).
PART 3: Confirmation.
Event Power
LOCATIONS & EVENTS SCREEN
The Locations and Events screen is your database of all your locations and events, events are allocated to a specific location for all your temporary power systems.
From the Locations and Events screen you can add a location (or address) and then allocate an Event to a specific Location, you can add multiple events the the same location and can also add multiple Locations.
Locations and Events
ADD a Location
ADD an Event to a Location
ADD a System certificate to an Event
You can add multiple electrical systems (G1 & G2) to an event. When generating a Confirmation of Electrical Completion Certificate (G3 Form) all the electrical systems and their associated G1 and G2 forms are automatically added to the G3 Form.
Copy a System G1 & G2 form for an Event, this is especially useful when multiple systems are supplied from the same source thus removing the need to manually complete multiple G1 forms therefore saving a huge amount of time not needing to enter duplicate data.
Copying a System (G1 & G2 Forms) for a specific Event will also copy across the circuits and Schedule of Test Results.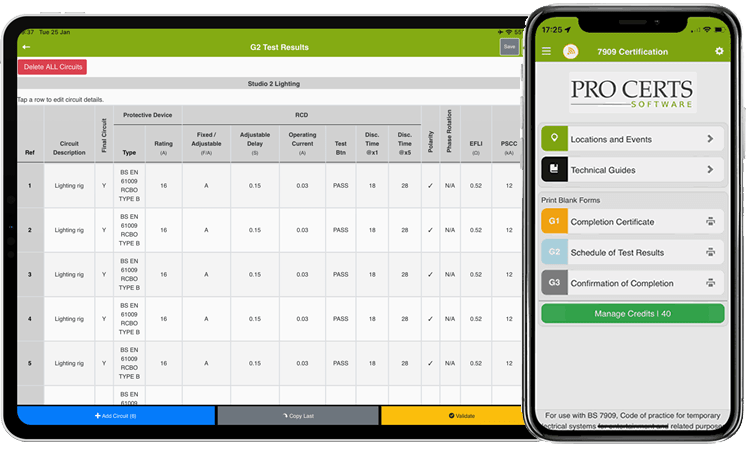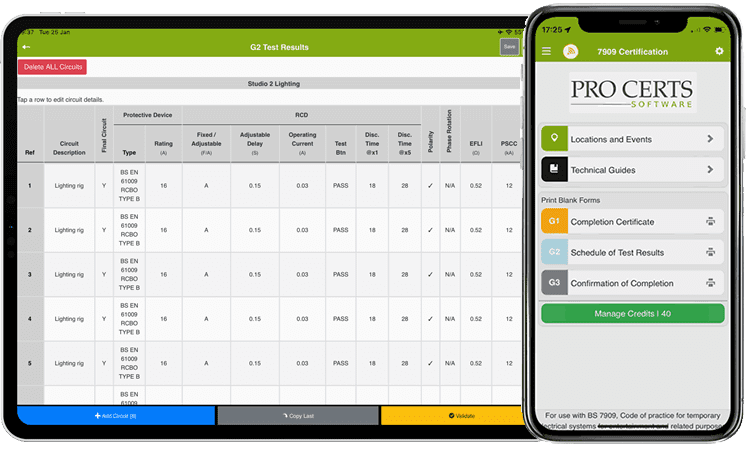 Tablets and Phones
OPTIMISED FOR MULTIPLE SCREEN SIZES
This 7909 certification software is optimised to work on all screen sizes s from the iPhone 5 up to large tablets such as the iPad and all Android devices.
Customisable forms
Saves time and paper
Import/export system certificate data between devices/users
Copy System G1 & G2 forms
No subscription required
Add your own logo
DOWNLOAD YOUR 7909 CERTIFICATION APP TODAY!