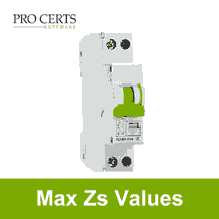 Description
MAX PERMITTED ZS VALUES
Trying to locate the correct maximum Zs value for a specific protective device can be very time consuming, sometimes you may find yourself needing the Zs value for a specific device and can't find it or don't have the Zs table to hand, introducing the Max Zs Values app, all your Zs values in one place.
This Max Zs Values app is available for iOS and Android. Download for iOS | Download for Android
- Max Zs calculators and Zs tables right your fingertips!
Common Devices Zs Calculator
RCD's in TT Earthing Systems
Fuses (Cartridge and Wire)
App Reviews
Don't take our word for it – here's what other app users say:
60947-2 Zs Tables
MCCB EARTH FAULT LOOP IMPEDANCE
This Max Zs Values app contains many manufacture BS EN 60947-2 MCCB Zs tables, select 60947-2 MCCB Devices option to see the full list of manufactures, select a manufacture to view the MCCB Zs tables.
Print Zs Tables:
Once you have found the BS EN 60947-2 MCCB Zs table you were looking for you can then print the desired Zs table directly from your mobile device.
Max Zs Main Menu:
Common BS EN Devices
60947-2 MCCB Devices
MCCB Setting (symbol meanings)
DNO / DSO Ze Values
Uo 55v and 63.5v Zs Values (110v single phase and three phase)
Zs – Ze = R1+R2 Calculator
Maximum Disconnection Times
Common Devices
FUSES | MCB'S | RCBO'S
Under the Common BS EN Devices menu item you can scroll through a comprehensive list of all common BS and BS EN fuses, MCB's and RCBO's.
Electrical Protective Devices Acronyms
MCB = Miniature Circuit Breaker
MCCB = Moulded Case Circuit Breaker
ACB = Air Circuit Breaker
AFDD = Arc Fault Detection Device
ELCB = Earth Leakage Circuit Breaker (obsolete)
RCD = Residual Current Device
RCBO = Residual current operated Circuit Breaker with Over-current protection
Once you have selected a protective device use the Rating column to select your device rating and hit the "Get Results" button to calculate the maximum permitted Zs value for your selected protective device and rating combination.
100% Zs Values
80% Zs Values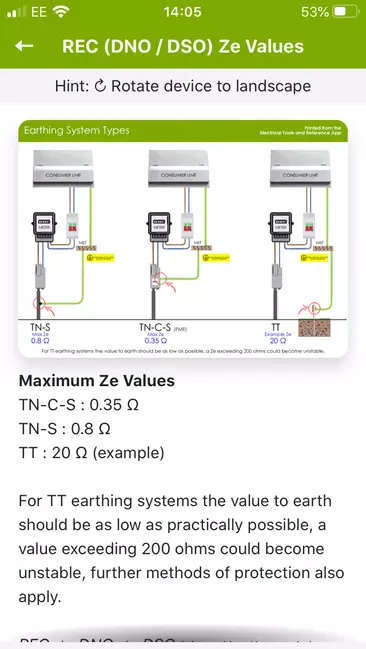 Max Ze Values
EXTERNAL ZE | DSO MAX ZE VALUES
The maximum permitted Ze depends on the earthing system type, TN-C-S = 0.35 Ohms, TN-S = 0.8 Ohms.
DSO = Distribution System Operator, previously known as DNO.
DNO = Distribution Network Operator, previously known as REC.
REC = Regional Electric Company.
Zs in TT Earthing Systems
RCD MAX ZS FOR TT SYSTEMS
Satisfying the maximum permitted earth fault loop impedance values in a TT earthing system may not be possible due the the higher Ze readings in a TT system. BS 7671 table 41.5 offers alternative maximum permitted Zs values for TT earthing systems, other regulations may also apply.
RCD TT Options
RCD OPERATING CURRENT:
30 mA
100 mA
300 mA
500 mA
NOMINAL VOLTAGE:
50V > 120V
121V > 230V
231V > 400V
400V and over
What's New
ONLY INCLUDES UPDATES WORTH MENTIONING
CHANGELOG
Date: February 2022
- Selection of "Device" bug fix and updated app icon

Date: August 2021
- Added BS 3871 Type 4 max Zs values (various manufacturers)
- Added a news feed from our blog

Date: February 2021
- Some layout improvements
- Corrected a spelling typo

Date: September 2020
- Added: MCCB Explanation of Setting Symbols
- Added: DNO Ze Values & Earthing System Types Diagram
- Re-worded reference from REC to DNO / DSO

Date: May 2020
- Improved UI
- Added a custom document viewer to view the MCCB Zs tables

Date: September 2019
- Added the ability to print the MCCB Zs tables
- Added some more BS EN 60947-2 MCCB manufacture Zs tables
- Reduced app download size

Date: 2019
- Complete new redesign
- Complete new UI
- Backend improvements
- Added a few new calculators

Date: 2018
- BS 7671 18th edition update
- Zs values updated

Date: 2015
- BS 7671 17th edition Amd 1 update
- Zs values updated

Date: 2013
- Maintenance update

Date: 2013
- iOS 6 update

Date: 2013
- Fixed BS88 bug

Date: 2012
- New protective devices added
- Zs database updated

Date: 2012
- Sharing function improved

Date: 2012
- 1st release


Demo video may show an older version of the app
Tablets and Phones
OPTIMISED FOR MULTIPLE SCREEN SIZES
This Max Zs Values app is optimised to work on all screen sizes and resolutions from the iPhone 5 up to large tablets such as the iPad Pro and all Android devices.
Includes:
MCCB's & ACB's
Fuses (Wire and Cartridge)
MCB's & Circuit Breakers
RCD's & RCBO's
DOWNLOAD YOUR MAX ZS VALUES APP TODAY!