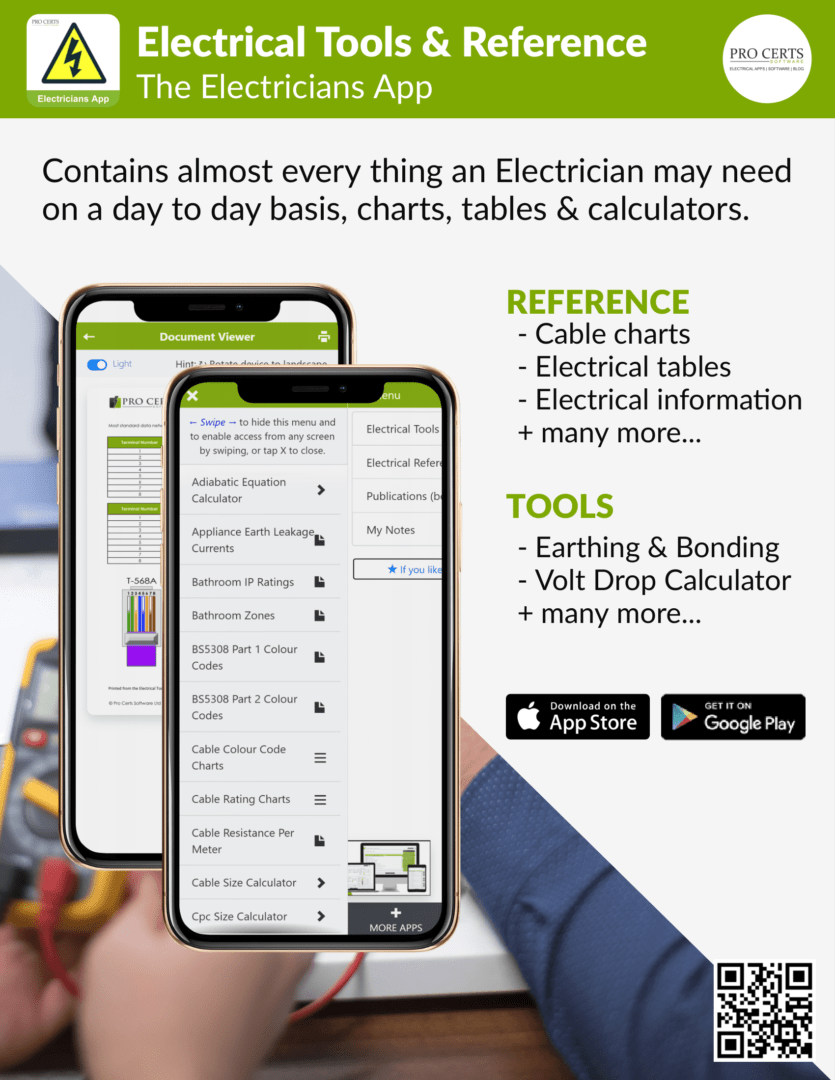 Description
THE ELECTRICIANS APP
Electrical Tools and Reference is the only app you'll need, packed full with useful electrical reference tables, charts, calculators and tools that an everyday electrician or engineer may need on a daily basis.
Designed with the end user in mind with easy to navigate sectional menus and a searchable index within the sidebar menu. Print many of the included electrical tables for quick reference or to assist with an ongoing project or task.
- Now you can be safe in the knowledge that you have the information and tools you need, when you need it!
Electrical calculators
Electrical charts and tables
Technical guides
Electrical forms
Danger notice generator
Direct dial to the DNO
Our blog news feed
+ Much much more
What's Included
INCLUDES BUT NOT LIMITED TO
ELECTRICAL TOOLS
Cable Size Calculator
Earthing and Bonding ↴

Adiabatic Equation
Cpc Size Calculator
Earthing & Bonding Size Calculator
Types of Earthing Systems

kVA Calculator ↴

Single Phase kVA Calculations
Three Phase kVA Calculations
kVA | kW | Power Factor Calculator

Max Zs Values ↴

Common BS EN Devices
60947-2 MCCB Zs Tables ↴

List of Manufacturers Zs Tables
MCCB Explanation of Settings Symbols

RCD's in TT Earthing System Zs Values
REC (DNO / DSO) Ze Values
Uo 55v and U 63.5v
Zs – Ze = R1+R2 Calculator
Maximum Disconnection Times
MCCB Explanation of Settings Symbols

PFC Fault Current Calculator
Ring Circuit Line to Cpc Ratio Calculator
Ring Circuit r1 r2 to R1+R2 Converter
Volt Drop Calculator
Watts Amps Volts Calculator ↴

Single Phase WAV Calculations
Three Phase WAV Calculations
ELECTRICAL REFERENCE
Appliance Earth Leakage Currents
Bathroom IP Ratings
Bathroom Zones
Cable Rating Tables ↴

List of Cable Rating Tables

Cable Colour Code Charts ↴

BS5308 Part 1 + 2 Colour Codes
ENATS 09-06 Colour Codes
Harmonised Wiring Colours (old to new)
Telephone Connections Guide
RJ45 Plug Connections Guide

Copper Cable Resistance Per Meter
Earthing System Types
EICR Frequency of Inspections
Installation Reference Methods
IP Rating Codes
Line to CPC Resistance Ratio Table
Minimum Cpc Sizes Table 54.7
Safe Wiring Zones
SPD Surge Protection Devices, Types, Uses & Min Cpc
SWA Armour Copper Equivalent Sizes Table
SWA Cleat Selection Table
SWA Gland Selection Table
Types of Wiring
RCD Trip Times
RCD Types
More Coming Soon!
DB NOTICES
DB Notices ↴

At Risk Warning Label Danger Notice
DB A4 Sign
App Reviews
Don't take our word for it – here's what other app users say: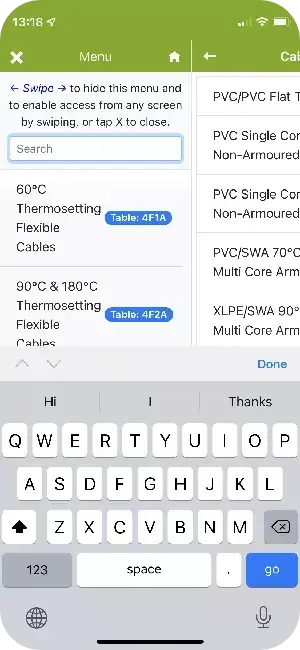 Quick Search Menu
SEARCHABLE INDEX
Each section of the app has it's own navigation menus and sub-menus to enable to user to locate information quickly.
Menus:
Sidebar Menu (Main Menus + List Items)
Electrical Tools Main Menu and Sub-Menus
Electrical Reference Main Menu and Sub-Menus
Navigation Icons:
Navigate to
Sub-Menu
Electrical Table or Chart
Directly call the local DNO
Sidebar Menu:
To activate the sidebar menu tap the Menu icon from the home screen, the side bar menu will then slide in to view from the left.
To enable the quick access sidebar menu from every screen swipe the menu to the left to hide it, you can then swipe right from any screen to access the sidebar menu.
Main Menus
ELECTRICAL TOOLS | ELECTRICAL REFERENCE
The two main menus which divide the sections of the app are the Electrical Tools menu and Electrical Reference menu.
Electrical Tools contains all the calculators and tools while Electrical Reference contains the charts and tables.
The Electrical Tools Section Includes:
kVA Calculator
Max Earth Loop Impedance Calculator
Electrical Power Calculators
Earthing and Bonding Size Calculator
Volt Drop Calculator
+ Many many more…
The Electrical Reference Section Includes:
Appliance Earth Leakage Currents
Bathroom IP Ratings
Cable Rating Charts
SPD Types, Uses and Min Cpc Size
+ Many many more…
Document Viewer
VIEW AND PRINT TABLES & CHARTS
We have built our very own custom document viewer integral to this Electrical Tools and Reference App so there is no requirement for any 3rd party PDF viewer or file handler app.
Document Viewer Icons:
Toggle between light or dark mode
Print the document
DB Notices
PRINT YOUR OWN DB NOTICES AND SIGNS
With the amount of stickers and signs required on consumer units and distribution boards a DB can get quite unsightly when it is plastered with a plethora of stickers, so why not combine all the stickers, labels and warning notices in to a single smart A4 sign with your own logo.
A4 DB Notice & Danger Warning Notice Labels
The A4 DB Notice Options Include:
RCD Test Notice
Mixed Wiring Colours Warning Notice
SPD Notice
Smoke Alarms Notice
No CPC for Lighting Circuits
Next EICR Due Notice
Options:
Add your own company logo
Apply your relevant cps logo
Digitally sign (sign the screen)
Set your default company info in the settings option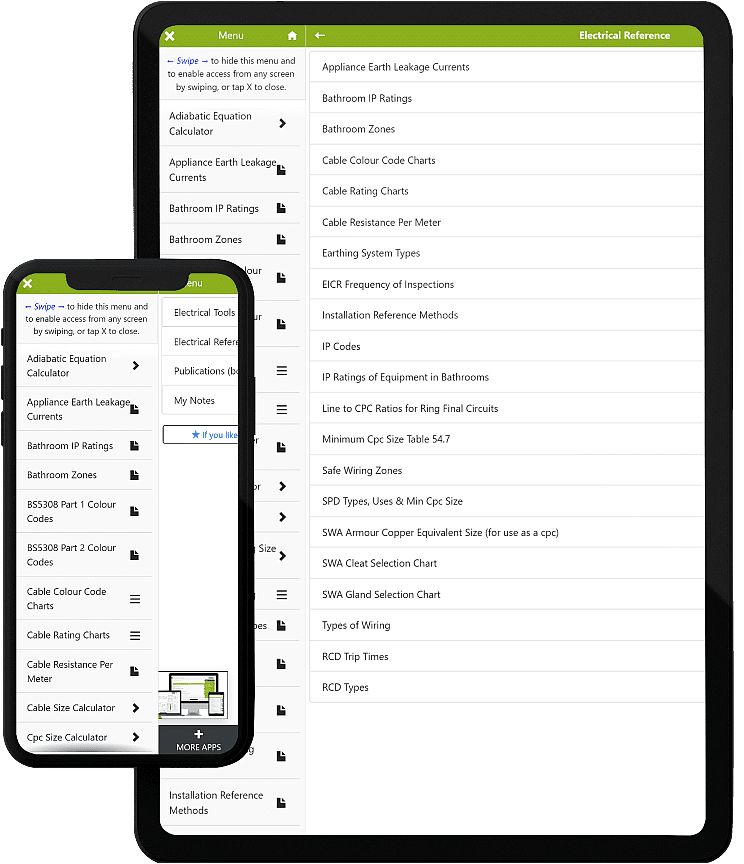 The Electricians App
OPTIMISED FOR MULTIPLE SCREEN SIZES
Electrical Tools and Reference is optimised to work on all screen sizes and resolutions from the iPhone 5 up to large tablets and all Android devices.
More Great Features:
Regularly maintained
Encourage all improvement ideas
Searchable menu
Dedicated support team
Print tables
GET YOUR ELECTRICAL TOOLS & REFERENCE APP TODAY!