Description
ELECTRICAL SAFETY CHECKS
LANDLORD RESPONSIBILITIES
While it is a requirement for all private rented accommodation to be regularly checked, inspected and tested by a competent Electrician at least every 5 years in the form of an Electrical Installation Condition Report (EICR), sometimes referred to as an electrical safety inspection, it is also the responsibility of the landlord to ensure the electrical installation is kept and maintained in a safe condition throughout the tenancy and before a new tenancy starts, this can be achieved with an electrical interim inspection.
RENTAL PROPERTY ANNUAL INSPECTION CERTIFICATE
Our Landlords Interim Electrical Checklist App can assist with the annual interim electrical inspection by providing a comprehensive list of checklist items on what to look for, select each list item as either ✓ (pass) or X (fail). Once you have completed the checklist a satisfactory or unsatisfactory annual electrical safety inspection certificate is generated. The Landlords rental accommodation annual safety check inspection certificate app for Landlords, Estate Agents, Surveyors and Electricians.
Landlords Electrical Checklist app is available for download on iOS and Android, Download for iOS | Download for Android
- Don't leave electrical safety to chance, checklist it!
Features
ELECTRICAL CHECKLIST SECTION EXAMPLES
General electrical checks
App Reviews
Don't take our word for it – here's what other app users say:
Interim Electrical Inspections
PRIVATE RENTED SECTOR (PRS)
Interim electrical inspections should be carried out before each new tenancy starts and then at least every 12 months (in addition to an EICR).
For all private rented accommodation such as HMO's, single-lets or serviced accommodation an interim electrical safety check should be carried out before each new tenancy starts and at intervals not less than 12 months.
An interim electrical safety inspection could consist of a visual walk around of the property visually checking every thing is ok and records kept of the interim inspection, recording and fixing any issues.
View our post on A Landlords Guide to Electrical Safety for further information.
---
Suitable for HMO's, single-lets, serviced apartments and holiday lets.
Electrical Checklist
EASY TO FOLLOW CHECKLIST
The electrical checklist is broken down into easy to follow sections, each section contains a list of relevant items to that section, tap a list item to mark it either ✓ (pass) or ✖ (fail).
Example Checklist Items:
– Light switches not cracked or damaged:
– Light switches operational:
Once you have completed the electrical interim inspection checklist you can add your own comments, notes or reminders.
---
Designed for Electricians, Landlords, Surveyors, Letting Agents or any one who carries out property interim inspections.
Easy to follow checklist
PDF inspection certificate
Digitally sign and date
Add your own comments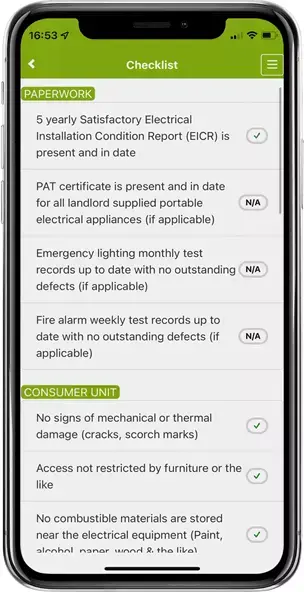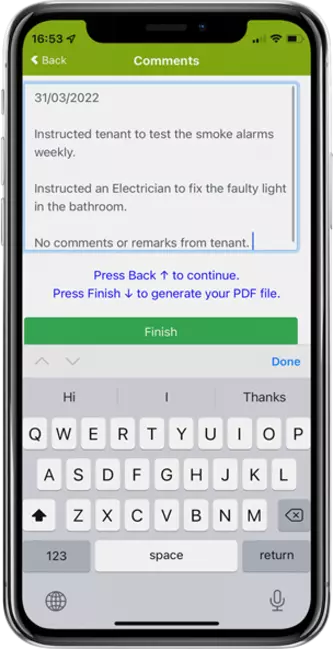 Interim Inspection
ADD YOUR OWN COMMENTS
Add your own comments to the interim inspection report, these comments could include anything from the overall condition of the property, remarks from the tenant or just some general comments or reminders.
You can also use the comments section to record any other additional checks or inspections you carried out in addition to the checklist.
Any comments made here are added to the final interim inspection report.
It's worth noting that the comments section is the prefect place to record any maintenance issue or repairs, the benefit of this is you will have a permanent record (evidence) of completed or on-going maintenance works, you never know when you might need it.
Interim Inspection Reports
PRINT | SAVE | EMAIL | PDF
A Landlords Interim Electrical Visual Inspection Checklist solves the issue of providing evidence that the electrical installation is being maintained and kept in a safe working order at the start of a tenancy and throughout the duration of the tenancy, a requirement of the new PRS (Private Rented Sector) scheme and other related regulations and legislation's.
3 page PDF inspection certificate
Print, save, email
Add your own comments
Digitally sign and date
Keep a record of your inspections
Save paper
What's New
ONLY INCLUDES UPDATES WORTH MENTIONING
CHANGELOG
Date: Late 2022
- TBC
- TBC
- TBC

Date: January 2021
- Bug fixes and a bit of housekeeping

Date: November 2020
- iPad OS 14.1 update

Date: October 2020
- 1st release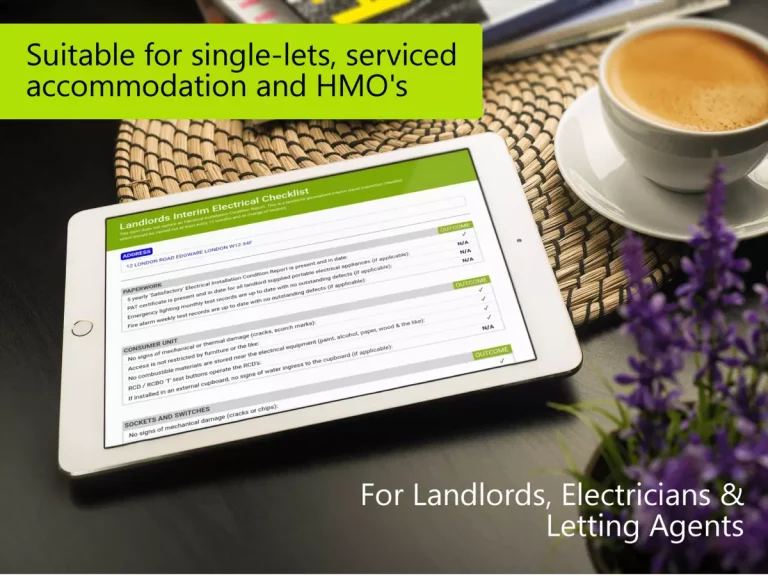 Tablets and Phones
OPTIMISED FOR MULTIPLE SCREEN SIZES
This Landlords Interim Electrical Checklist app is optimised to work on all screen sizes and resolutions from the iPhone 5 up to large tablets such as the iPad Pro and all Android devices.
Features:
Easy to follow checklist
Add your own comments
Digitally sign & date inspection certificate
Generate a PDF interim inspection certificate
DOWNLOAD YOUR ELECTRICAL CHECKLIST APP TODAY!