Watts Amps Volts Calculator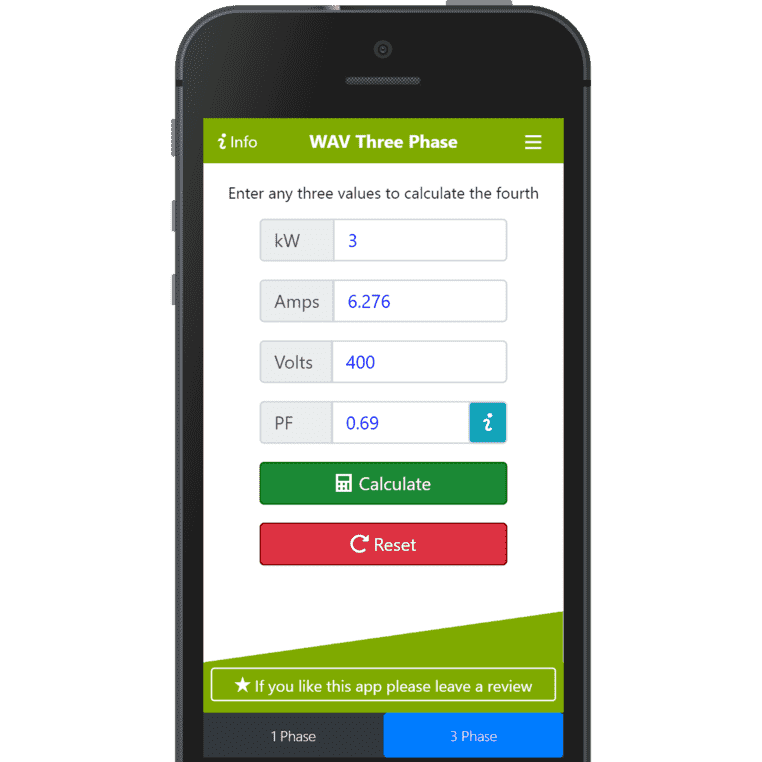 Watts Amps Volts Calculator
An Electrical Power Calculator

✔ Calculate Watts
✔ Calculate Amps
✔ Calculate Volts
✔ Calculate kW
✔ Calculate Power Factor
✔ Single and Three Phase

Download Free Watts Amps Volts Calculator for iPhone, iPad or Android
Description
Watts Amps Volts Calculator is a free electrical power converter for calculating Watts, Amps and Voltage single phase and kW, Amps, Voltage and Power Factor three phase.
Single Phase Power Calculations
Enter ANY two values to calculate the third
Calculate Watts
Calculate Amps
Calculate Voltage
Three Phase Power Calculations
Enter ANY three values to calculate the forth
Calculate kW
Calculate Amps
Calculate Voltage
Calculate Power Factor
App demo
Watch the app in action!

App Reviews
Read what Our Happy Customers Are Saying

Good app,
Easy to calculate your required answer.

Very simple and easy to understand.
Not being an electrician it really helps to find values.