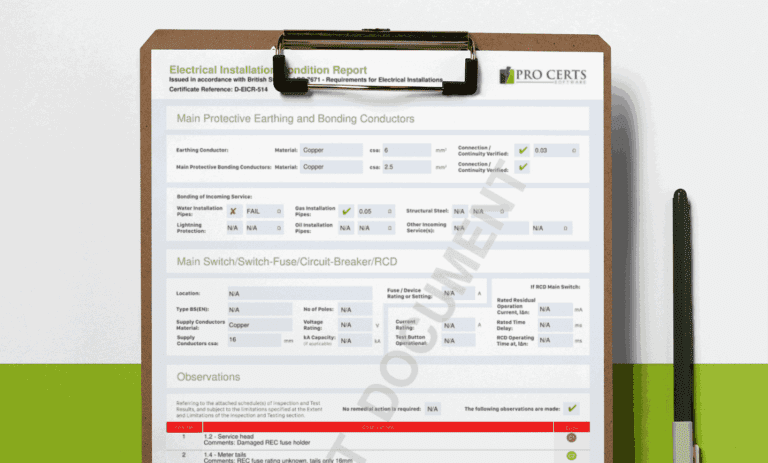 18th Edition Online Electrical Certificates.
In this day and age of mobile and online website technology there is a vast choice of online electrical certificates and software to choose from for producing your electrical certificates online. Here we shall be looking at the Pro Certs Electrical Certification App.
Pro Certs is a mobile electrical certification application for Android Tablets, iPad and Windows 10. This electrical certification app is a "standalone" electrical certificate app therefore does not rely on an online website or remote server to function.
The benefit of not relying on an online certification website is should that website or sever go down, or if you have no internet connection that could cause connection issues which may prevent the software to function properly.
Our electrical certification software works fully online and offline, even in airplane mode. Once you are logged in you do not need to be connected to wifi, 3G, 4G or 5G at all, an essential feature when working in an area with poor mobile reception such as a basement.
All electrical certificates generated with Pro Certs are stored on the actual device and we do not rely on an online certification software backend server to retrieve, sync or download your electrical certificates, reports or PDF electrical certificates.
We offer a 7 day free trial to try out the electrical certificate software, the free trial includes support and is the full unrestricted version for free for 7 days.
Free Trial: While in the free trial period you are free to download the electrical certificates as many times as you like with no restrictions. You can also print or download the free electrical site survey forms in PDF while in the free trial.
Support: We fully support all of our electrical apps and certification software, you can contact our online support team here.
For further information on our electrical certification software visit ❯  Electrical Certificates Software.
For all our electrical apps for Electricians visit ❯ Electrical Apps.
---