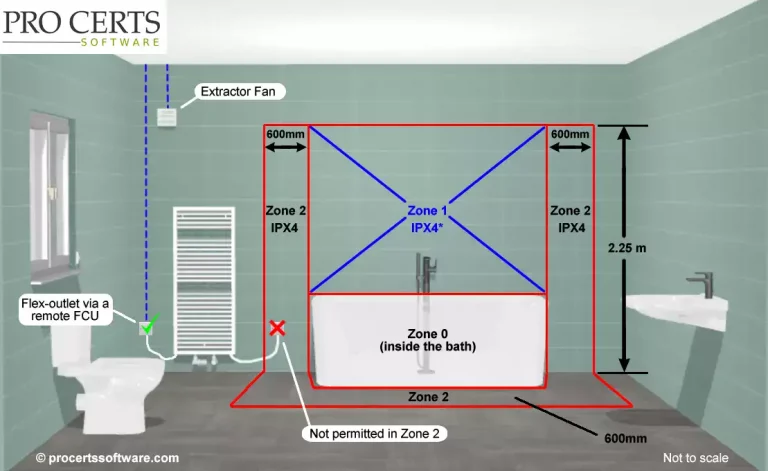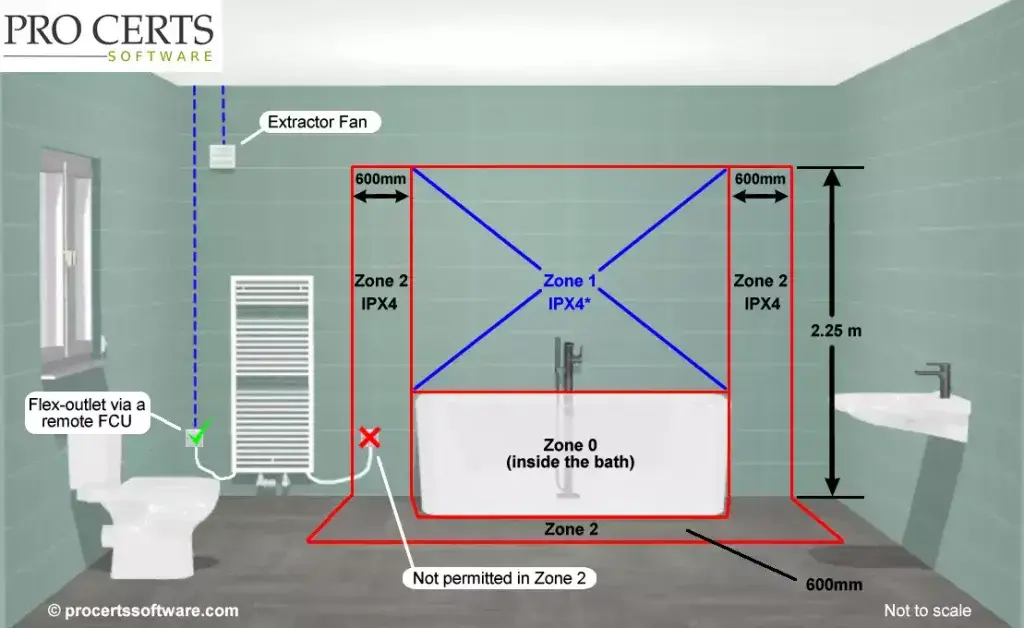 Can I install a switched fused spur in a bathroom?
Yes and No. Although this question is clearly covered in BS 7671 IET Wiring Regulations and Guidance Note 7 Special Locations it's still a common question that comes up time and time again, so we hope to clear up any misunderstandings on the position and locations of electrical points, switches, spurs and any other electrical equipment in bathrooms in this post.
For the purpose of this post when we refer to a bathroom this also includes shower rooms.
Bathroom Zones
In relation to electrical safety, in the UK, bathrooms are divided in to Zones, Zone 0, Zone 1 and Zone 2, there also used to be Zone 3 which has since been removed.
Within each bathroom zone there are specific conditions relating to the siting of and installation of electrical current using equipment, switches, control gear and lighting and the suitability / minimum requirements of that electrical equipment within a particular zone.
Bathroom zones are also applicable to other rooms which contain a bath or shower for example, a shower cubical in the corner of a bedroom.
Extra consideration should be also be taken on the suitability of any electrical equipment or accessories even if it is installed outside of a zone but still within a bathroom.
In addition to the bathroom zone requirements BS 7671 also comments that any piece of electrical equipment or accessories such as sockets, switches or fused spurs must be suitable for it's intended location taking into consideration of external influences and the surrounding environment.
Bathroom IP Ratings
Zone 0: IPX7 (note 1)
Zone 1: IPX4 (note 1)
Zone 2: IPX4 (note 1)
Note 1, The general requirements of Parts 1 to 6 of the regulations are applicable within the zones of a room containing a bath or shower but are also supplemented by the additional requirements set out in part 701 of BS 7671.
For further information on IP ratings in bathrooms see IP Ratings of Electrical Equipment in Bathrooms
Spurs in Bathrooms
Whilst it's not ideal to be installing switched spurs, un-switched fused spurs or flex-outlets within a bathroom there are a few conditions where a spur maybe installed within a bathroom should you deem it necessary but only if all of the conditions and requirements have been met, see BS 7671 and Guidance Note 7 (Special Locations) for details on the specific requirements.
Can I fit a spur in the bathroom?
Yes, but only if certain conditions are met.
Conditions where a spur could be installed within a bathroom:
Must be protected by a 30mA (or lower) RCD
Spur must be installed outside of all the bathroom zones (not in a zone)
Location of the spur must be suitable for its environment and external influences
Risk assessed
See BS 7671 & Guidance Note 7 requirements
If all of the above conditions have been met and a risk assessment does not recommend otherwise then you could consider installing a spur within a bathroom, but it is worth considering if the spur really needs to be in the bathroom or can it be installed somewhere else? Bathrooms can be wet and steamy locations and as we all know water and electrics don't mix.
Can a spur be in zone 2?
No, under no circumstances can a spur, switched, fused or otherwise be installed within Zone 2 of a bathroom. Switched fused spurs and un-switched fused spurs are NOT PERMITTED within any zone of a bathroom.
Can a flex outlet be installed in zone 2 of a bathroom?
No, A standard flex-outlet must not be installed in zone 2 of a bathroom.
Flex-outlets for Towel Rails in Bathrooms
For fitting an electric towel rail within a bathroom you will likely need to connect the electric heated towel rail via a switched fused spur with the correct size fuse fitted.
Assuming the towel rail is suitable to be installed within zone 2 of a bathroom (always read the manufactures instructions), you then need to connect the towel rail to a suitable switched fused spur and possibly via a flex-outlet, but switched fused spurs and flex-outlets are not permitted in zone 2, or zone 1 for that matter.
A switched fused spur and flex-outlet must be installed outside of zone 1 and zone 2 and in a suitable location taking into account of external influences and the local environment, if possible ideally installed outside of the bathroom altogether.
Flex-outlet Location for Bathroom Towel Rail
If an electric towel rail is to be connected to a switch fused spur which is located outside of all the bathroom zones via a local flex outlet adjacent to the towel rail then the flex-outlet must not be installed in zone 1 or zone 2 of a bathroom.
If it is impossible to locate the flex outlet outside of the bathroom zones because for example the towel rail cable is not long enough then it might be possible to use the flex-outlet as a wire way for the routing the towel rail cable.
The term "wire way" means the cable passes through the flex-outlet but not connected to it, or inside it, meaning the cable just passes through it and connects directly to a switched fused spur on the other side of the wall for example, therefore no connection is made at the flex-outlet.
If the towel rail cable is too short  to connect to an outlet which is outside of the zones in the bathroom then you may need to consider re-locating the towel rail or installing a suitable IP rated connection box to extend the cable.
– This post refers to a standard 13A 230v (switched or un-switched) fused spur or flex-outlet.
For socket-outlets in bathrooms see Sockets in Bathrooms.
Remember: BS 7671 is the ABSOLUTE MINIMUM requirement, therefore it is good practice to go above and beyond in terms of electrical safety and workmanship standards. – If an aircraft was constructed to the ABSOLUTE MINIMUM standards, would you get on it?
Bathroom Regulations
There isn't a dedicated standard or wiring regulations specifically dedicated for electrics in domestic bathrooms, shower rooms or wet rooms.
BS 7671 IET Wiring Regulations covers the electrical requirements for bathrooms, the books (BS 7671 & On-site Guide) listed below are popular guides which include the electrical requirements in bathrooms.
| Photo | Product | Price | Buy |
| --- | --- | --- | --- |
| | Requirements for Electrical Installations, IET Wiring Regulations, Eighteenth Edition, BS 7671:2018+A2:2022 (Electrical Regulations) | £79.49 | |
| | On-Site Guide (BS 7671:2018+A2:2022) (Electrical Regulations) | £25.47 | |
| | Electrician's Guide to the Building Regulations (Electrical Regulations) | £22.27 | |
---