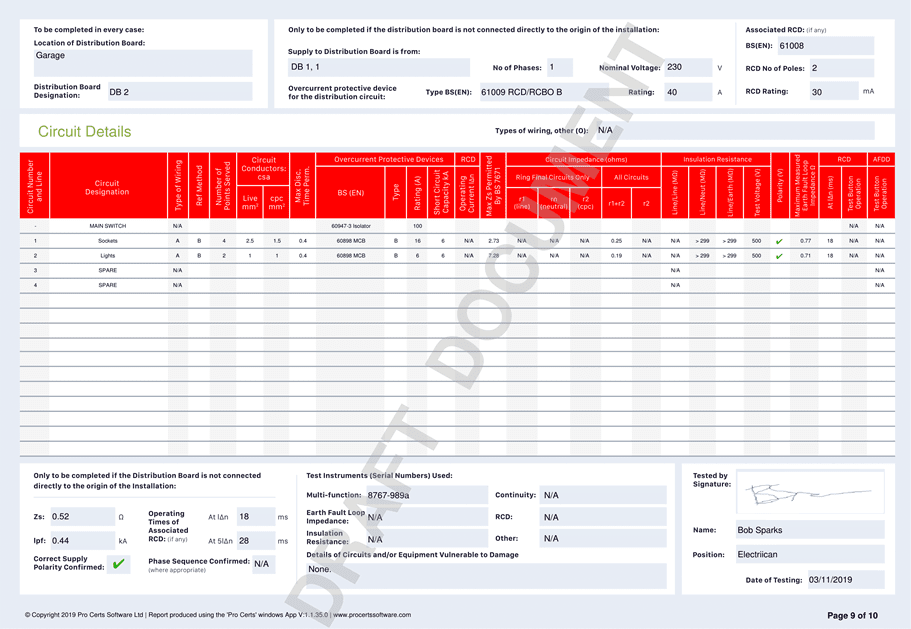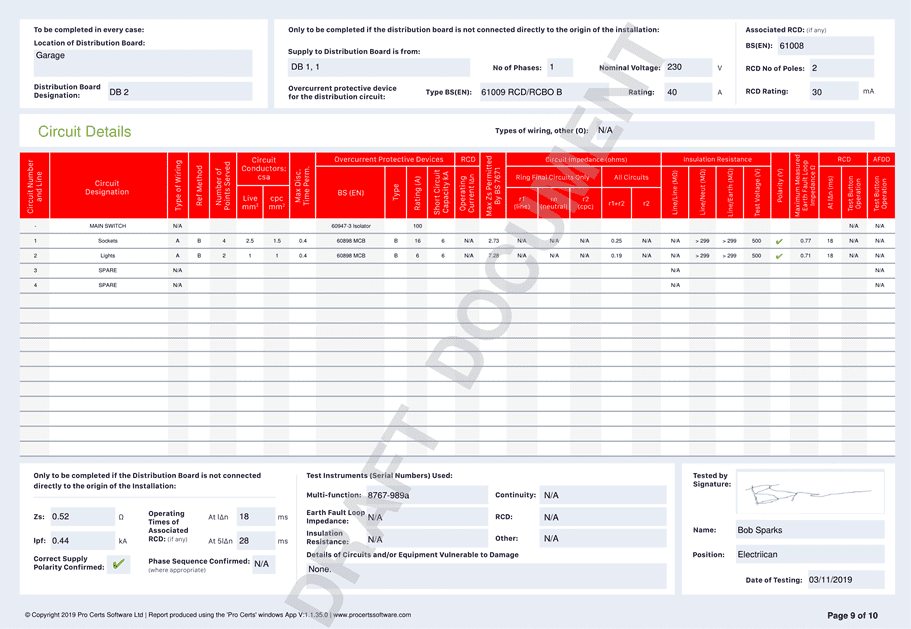 Electrical Certification Software to produce professional electrical installation certificates, installation condition reports and minor electrical installation works certificates with the Pro Certs electrical certification software for Android iPad and Windows 10 & 11.
 Produce PDF documents, edit and email directly to client:
EIC – Electrical Installation Certificates
D-EIC – Domestic Electrical Installation Certificates
EICR – Electrical Installation Condition Reports
D-EICR – Domestic Electrical Installation Condition Reports
MW – Minor Electrical Works Certificates
Electrical Inspection and Testing Software is designed with the user in mind to ease the burden of form filling, saving valuable time and energy.
​You can email the completed report or electrical certificate directly from the app before you leave site. Input your data while carrying out the testing removing the need to spend hours in the office inputting data or neatly handwriting out reports.
This EICR software / app has some great built-in time saving features such as automatically adding C1's, C2's, C3's and FI's selected from the drop down list on the schedule of items inspected to the list of observations removing the need to manually input them.
Input your data as you go, saving time from sitting in the office inputting your handwritten notes into PC based software. We also have a Windows 10 version if you prefer to complete the paperwork in the office.
We have some great automated features pre-built into the certification software to ease the flow and speed up the time it takes to complete a certificate, or report in turn saving time.
Maximum Zs Values automatically 

imputed

C1, C2, or FI selected on the schedule of items inspected are added to the list of observations

Complete all circuit data in one go. Use the new top row of the circuit details to copy to all circuits

​Too many to list
Site Survey Forms – Blank Certificates & Reports
Print blank electrical installation certificates and EICR condition reports onto plain paper if you prefer to hand write your certificates or would rather input your data at a later date. If you select an existing client and installation address this will be added to the associated fields on the blank paperwork.
Many people do not understand an electrical installation condition report. To help with this we have utilised a traffic light system for the coding of observations.

PDF Electrical Forms – Draft and Master Documents
This electrical certification software produces PDF electrical certificates and condition reports in 'Draft' or 'Master' format. The draft version puts a 'Draft Document' water mark over the electrical certificate.
​A copy certificate function, copy an existing certificate to use as a template or master certificate. The copied certificate or condition report is a complete duplicate of the original certificate and includes all test results, just change the certificate reference for the new certificate.
Easily add photos to condition reports, each photo is allocated the observation for which it relates to.
You can contact our support team directly from the home screen of the app.
We welcome all feedback and invite improvement suggestions and new feature requests.
You can add an observation or non-compliance from every section of the app with the dedicated 'Add Observation' button. You can also add an observation from the circuit details page by clicking on the + button of the corresponding circuit, the circuit number or reference will then be automatically added to your observational notes. From here you can also click on the Add photo button to also include a photograph related to the current observation.
Currently the electrical certification software is available on iPad, Android Tablets, Windows 10 & 11 Tablets and Windows 10 & 11 PC. Our iPad app is also compatible with iMac and MacBooks with the new M1 chip.
Further Information
For further details of our Electrical Inspection & Testing Software and Apps visit our main app page or view the Support User Guide.
---