IP ratings (Ingress Protection) are used to determine the level of protection provided against the ingress of solid objects such as dust, and liquids such as water. IP ratings are noted in the BS 7671 18th edition IET wiring regulations
Selecting the correct electrical equipment and accessories with the correct degree of ingress protection is paramount when designing a new electrical installation or addition to an existing installation.
The IP ratings chart below was printed from the Electrical Tools and Reference App which shows the numerous variants of different IP ratings and the level of IP protection offered by each IP code.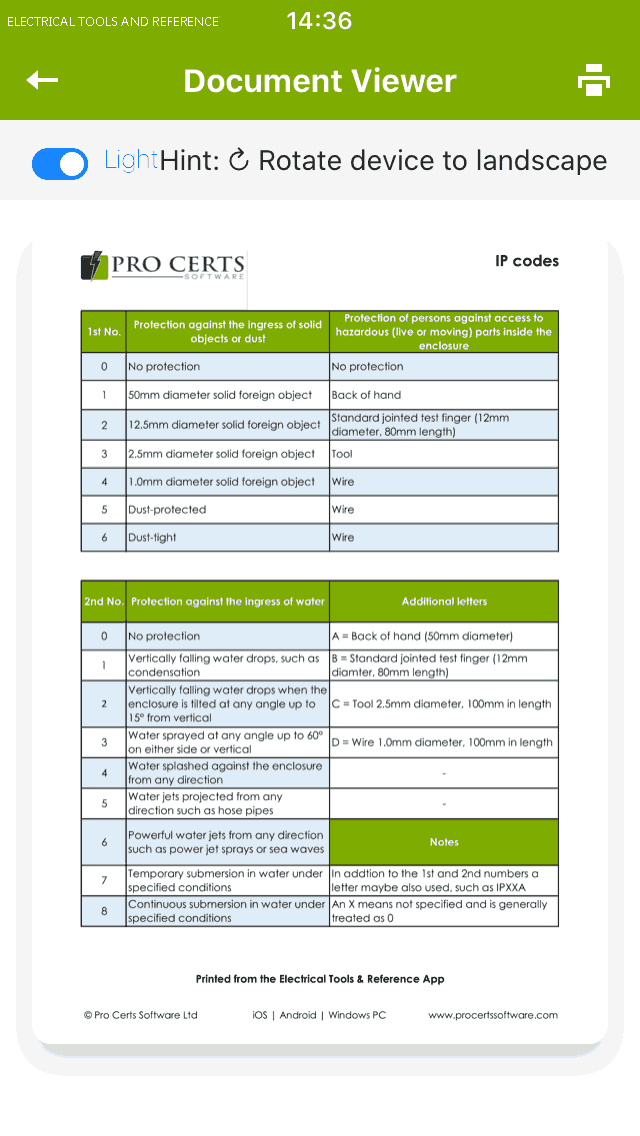 IP Code Meanings
I = Ingress (The unwanted introduction of water, foreign bodies, contaminants, etc)
P = Protection
1st number = Level of protection offered against the ingress of "liquids"
2nd number = Level of protection offered against the ingress of "solid bodies"
X = No protection
As you can see from the IP ratings chart, IP ratings range from IPXX no protection to IP68 which offers "dust-tight" and "continuous submersion in water (under specified conditions)" protection.
Minimum IP Ratings of Electrical Equipment
The minimum required IP ratings of electrical equipment will depend on the environment they are to be exposed to. This could vary from a saw mill to a swimming pool. BS 7671 18th edition wiring regulations 2019 contains the minimum IP rating requirements for equipment in different locations, see our previous post for IP Ratings of Equipment in Bathrooms.
Areas with an increased risk of exposure to liquid (water) such as external lighting or external sockets would require a higher IP rating to protect against the ingress of water (IP 1st letter), such as rain.
Areas such as saw mills could be a dusty environment therefore a higher protection against the ingress of solid bodies (IP 2nd letter) such as sawdust would be required.
Depending on the environment and external influences exposed to the installed electrical equipment further protection against other factors may also apply.
An IP rating chart displays the varying levels if Ingress Protection (IP), the environment and external influences will determine the minimum level of IP protection required.
BS 7671 Wiring Regulations (along with other standards) dictate the minimum permitted levels of IP ratings for electrical equipment and wiring accessories.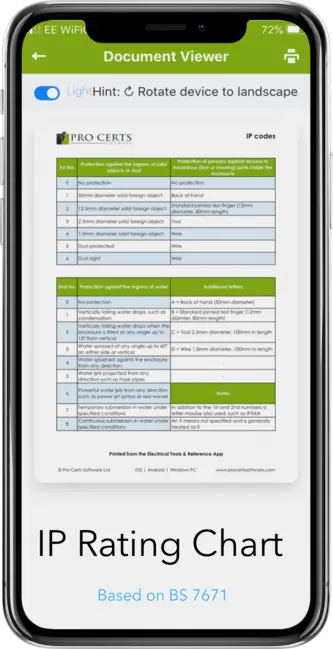 IP Ratings Table
IP rating tables are included within our Electrical Tools and Reference app, this Electricians App contains many tables, charts and calculators designed for the electrician on the go.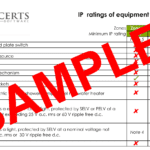 ---