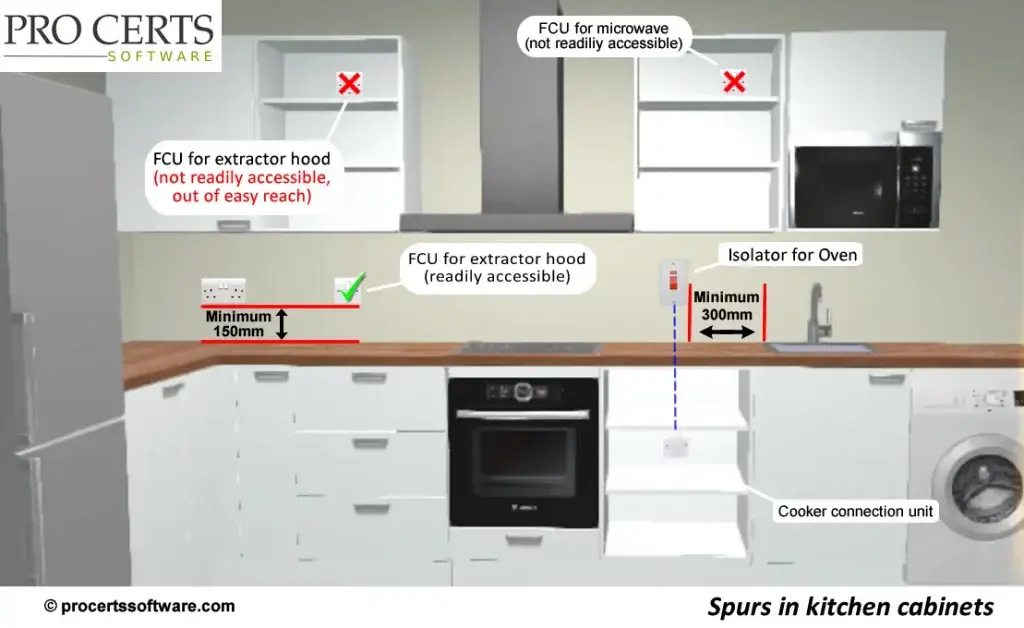 Are sockets and spurs permitted in kitchen cabinets and cupboards?
Sockets, spurs and any other electrical accessory needs to be readily accessible, A socket or spur in the back of a kitchen cupboard might be considered not readily accessible if the socket, spur or isolator is obstructed by the items stored inside that cupboard or it is out of reach i.e. at high level.
A socket behind an appliance such as an integral fridge freezer, dishwasher or washing machine would deem the socket to not be readily accessible therefor a readily accessible isolator or switched fused spur would likely be required to control the non-accessible socket.
Switched Fused Spurs in Kitchen Cupboards
Installing switched fused spurs inside kitchen cabinets or kitchen units is not ideal but sometimes it might be the only option due to space constraints.
The reason it is not ideal, is for example, a hardwired appliance is playing up and needs to be isolated quickly, the user may not be able to locate the switched fused spur hidden away in a cupboard to be able to turn off the appliance, a clear prominent sign noting something along the lines of "Extractor hood switch inside this cupboard" on the front of the cupboard door would certainly be helpful in this scenario.
For further information see Local Isolation for Kitchen Appliances.
Sockets in Kitchen Cupboards
Socket-outlets are permitted inside kitchen cupboards and (if required) should be easily accessible and installed in such a way the socket is not prone to mechanical damage, see BS 7671 530.4 Fixing of Equipment, Part 5 Selection and Erection of Equipment and Chapter 46 Isolation & Switching.
---